Mar 25, 2023 02:46 PM Central
Jackie Schmaltz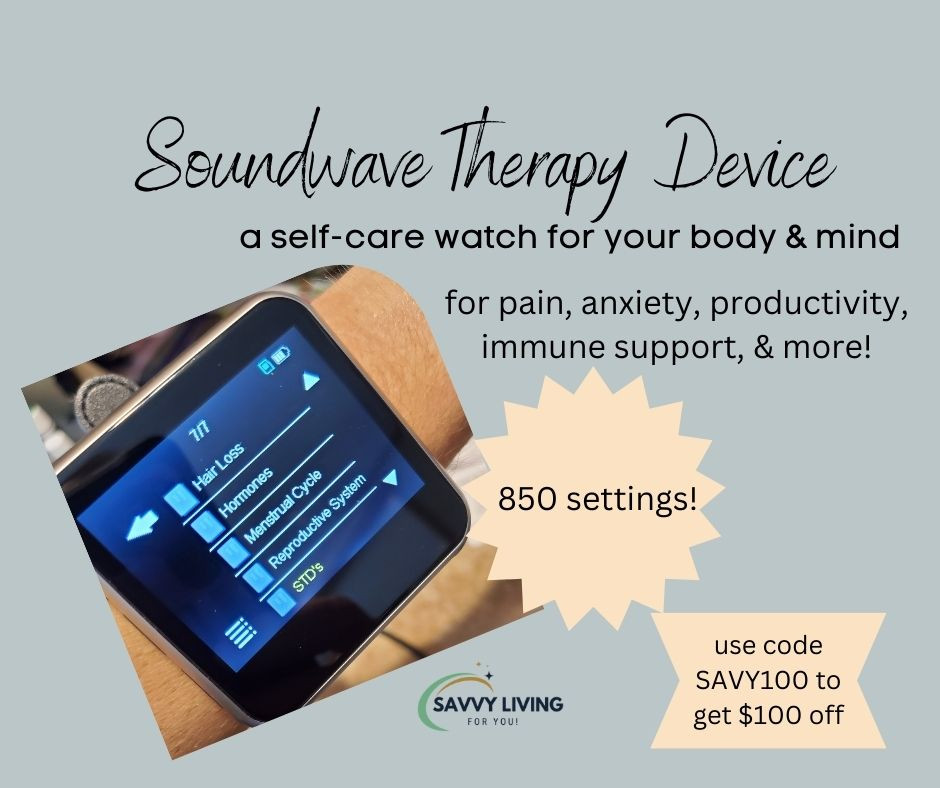 Do you struggle with IBS? You are not alone. Millions of people all over the world experience the symptoms that come along with Irritable Bowel Syndrome (IBS). Though it can be a very challenging condition to manage and treat, there is hope for finding relief and calming IBS naturally. This post will share my own journey with IBS, an effective strategy for managing the symptoms, and how to practice self-care so you can feel your best!
I've been really focusing on taking care of myself these past few weeks as we've been really busy with calving and the normal day-to-day around here. The last thing I need is to be run down, sick, or in any sort of pain from my IBS. I've got a large toolbox for this, but today I'm going to share about a device that we are really loving here at the Ranch for all kinds of things, including my IBS. It's a soundwave frequency watch.
I learned about it from a friend who had a dramatic life-changing experience with the watch and her Belle's Palsy. Another friend found relief from carpal tunnel. These were just some of the examples of why I decided to try the device that looks like an oversized watch for myself. When people ask me about it and I share what it does, everyone wants one. Here is just another reason why....
Last night I ran the Digestive folder. I set it to IBS and let it run through the whole list. My tummy wasn't really bothering me too bad, just a little discomfort that is normal for me this time of night, especially on a day I eat donuts….which was yesterday.
Within minutes of turning the watch on, my tummy went from quiet and stagnant (the cause of the inflammation causing the mild pain I experience) to active and moving. Like it was just woke up from a nap and realized it had a job to do. It was very soothing to feel things start to gently move along. Not in a way that had me needing to go to the bathroom, but just in a soothing, comfortable way of healthy functioning digestion that wasn't happening prior to turning the watch on. After a few minutes I could feel pressure going across my transverse colon. This is usually the source of my worst pain when I have flare ups and it was a bit uncomfortable. But then, I felt the pressure shift and was completely relieved. It all happened within about 15 minutes, and it felt so good.
This is definitely a setting I will be running daily. In fact, I have it on now and am experiencing the same feel-good movements happening in my gut. I think I'll help the process along by making sure I take my
enzymes
and
probiotic
today. I'm not always good about that and they too make such a HUGE difference in my gut health journey. (which you can read more on that and why gut health matters
HERE)
.
This watch has been such a blessing in my life; from general achiness to stress relief and immune support, helping my little one fall asleep, I just can't say enough good things about it. I learned that it works by using frequencies – sounds. The same soundwave technology that is used to blast away kidney stones, only in a much more controlled and calculated method.
You can get a watch for yourself
HERE,
and you are welcome to use my referral code SAVY100 to get yourself $100 off if you like to save money like me.
If you'd like to see more information, scientific studies, and testimonials on the watch, you can do that
HERE
or hit the "contact me" button and we can talk about things. I wouldn't wait long though, these things go out of stock FAST as they are taking the world by STORM.
Don't let IBS slow you down and keep you from enjoying life. Regain control naturally with WavWatch and other tools I share about in my
gut health guide
. You deserve the
Savvy Life.
Jan 19, 2022 12:44 PM Central
Jackie Schmaltz
Gut health isn't just another health trend topic that will come and go. Gut health IS THE health topic....and it's probably the missing link you've been longing for.
I'll explain in a bit, but first, my story and personal journey. Watch the video or keep reading to see if this sounds familiar to you.
I have suffered from chronic constipation my whole life. I never knew it was that. I just knew it was embarrassing and uncomfortable, and I had to strategically plan out my day according to my bathroom needs. Not because I needed to be near a bathroom for a quick elimination problem, but because I knew I would need HOURS to get my business done.
Going #2 in between classes at school was not an option (not enough time). I would end up having to hold it until I got home. By that time I would be so bloated with painful cramps I would be buckled over in pain....but I was good at hiding it because I was too embarrassed to say anything. And if you know anything about elimination habits, you know that the longer you hold it in, the harder it is to go when you finally try to.
This misfortune followed me through adulthood into the workforce....more embarrassment.
Another thing I experienced regularly was pain caused by bloat that was so intense I couldn't stand straight. It had me looking 6 months pregnant and curled up in a ball until I found something that helped. Sometimes I could muster myself up to take a hunched over walk (hey, it works for horses). Sometimes I could take some pink stuff, but sometimes the only that worked was to throw in the towel for the day and go to bed. Not too convenient if it was the middle of the day.
This happened to some degree EVERY. DAY.
I wondered if anyone else had this issue. I wondered if there was something wrong with me. I wondered if I'd ever find relief.
Thank GOD I did find a solution!
I personally focus on gut health habits EVERY day. It is at the forefront of my food choices and my activities, but now it is in a positive manner, not in a spirit of dread and embarrassment.
I have learned to love water, which is the first thing people tell you to do right?
(annoying naggy tone) "drink more water"
Like if only it were that simple right?
But yes, water intake makes a difference, so learn to like it. (I've got tips for that)
(same annoying naggy tone) "you need more fiber"
More eye rolling. Like, "yeah....I get it!"
Ok, now we're getting into some BAD advice. Let's just NOT. (negative long term side effects)
Why does Gut Health even matter?
For me, it was affecting my day-to-day quality of life.
The digestive system is at the CORE of your body, and so, at the core of your health. If it's sick, you're sick.
Healthy elimination habits have a direct effect on your...
Hormones. Used up hormones, particularly estrogens, need to be eliminated swiftly from your body so they don't build up and cause imbalance. When estrogens hang around too long they feed cancer cells, among other things.
Liver Function. The liver empties out into the intestinal tract each night at about 3 a.m. If the intestinal tract is backed up, the liver has no where to go with the sludge it has filtered out of your blood stream. This sludge includes those used up hormones I just mentioned and any other toxins you have consumed and absorbed from your food, water, and environment, as well as general metabolic waste (think car exhaust). As with any clogged sewage system, the backed up mess goes back to where it came from. For us, it means back into the bloodstream. This creates a domino effect of problems like allergies, inflammation, toxicity, etc.
Skin condition. Most skin issues are actually gut-related issues. If there is inflammation in the gut (or anywhere else in the body), there will be inflammation in the skin at some point. The body needs to flush it out somehow and even though the skin is the last resort, we are typically so backed up with toxins that our skin is the only route left. This creates issues like eczema, psoriasis, and cystic acne.
Sleep. Serotonin effects our sleep. It is used by the brain, but it is made in the gut. If the gut is too filled with decaying fecal matter and trying to manage the problems that that causes, it's not going to be able to give good focus on creating a non-vital hormone like serotonin. It's more worried about getting the rotting garbage out so it doesn't end up in your vital organs to create more damage.
The body also does 80% of it's restorative repair in deep sleep mode. So if you're trying to heal from anything, sleep is imperative.
Stress. Sleep effects our HPA-axis (Hypothalamus, Pituitary, Adrenals) this is our stress response system. When we are not getting good quality of sleep, the body will read this as stress. This will have another cascading domino effect on your overall health, but more specifically it will burn out your adrenals, throw off your menstrual cycles, and mess with your mental clarity.
Mood. Lots of depression conditions are treated with serotonin drugs. See above in sleep.
Brain Function and Mental Alertness. The skull does this amazing thing at night where the plates contract and sort of "wring out" the brain like a sponge to clean the toxins from it. (remember, toxins can also just be metabolic waste from its normal healthy functioning. like car exhaust). The garbage then gets wrung out into the spinal cord and filtered out through the lymphatic system. This cleansing function can only happen in a deep REM sleep. This is one reason we are in mental fog when we don't get good sleep.
Immune Function. The digestive tract is a LARGE part of our immune system. If it's not functioning well, our immune system is weakened. We don't need any of THAT right now, do we?
And all of this is directly affected by the state of your digestive system functioning properly.
What does functioning properly look like?
The perfect bowel movement should be soft, well-formed in one piece, light-to-medium brown in color, and easy to pass. It should take you minutes to poop, not hours.
If you are not properly and efficiently having perfect bowel movements within 2 hours after every meal, you need to do some work in the area of gut health.
And how LIBERATING it is to poop like this! Yes, I just said that and it's TRUTH. (If you know, you know.)
Sitting down and getting my business done in the time it takes me to even just pee is something I thought I would never experience. And did you know....having a "good poop" releases happy endorphins too? That's why we feel so GOOD when it's done! #doublewin :-)
My journey with healthy gut habits is about 10 years strong now. If you want to know how I do it, I'll show you! Just grab my Gut Health Guide
HERE
and be on your way!
When I think back on how much of my time... my life, was wasted sitting on a toilet, it makes me sad and mad and robbed. I'll never get that time back. If only I had known then what I know now, how much different would things have been for me?
I don't want that for anyone else.
So girl.... I got you! All you have to do is ask!