Apr 2, 2023 11:02 AM Central
Jackie Schmaltz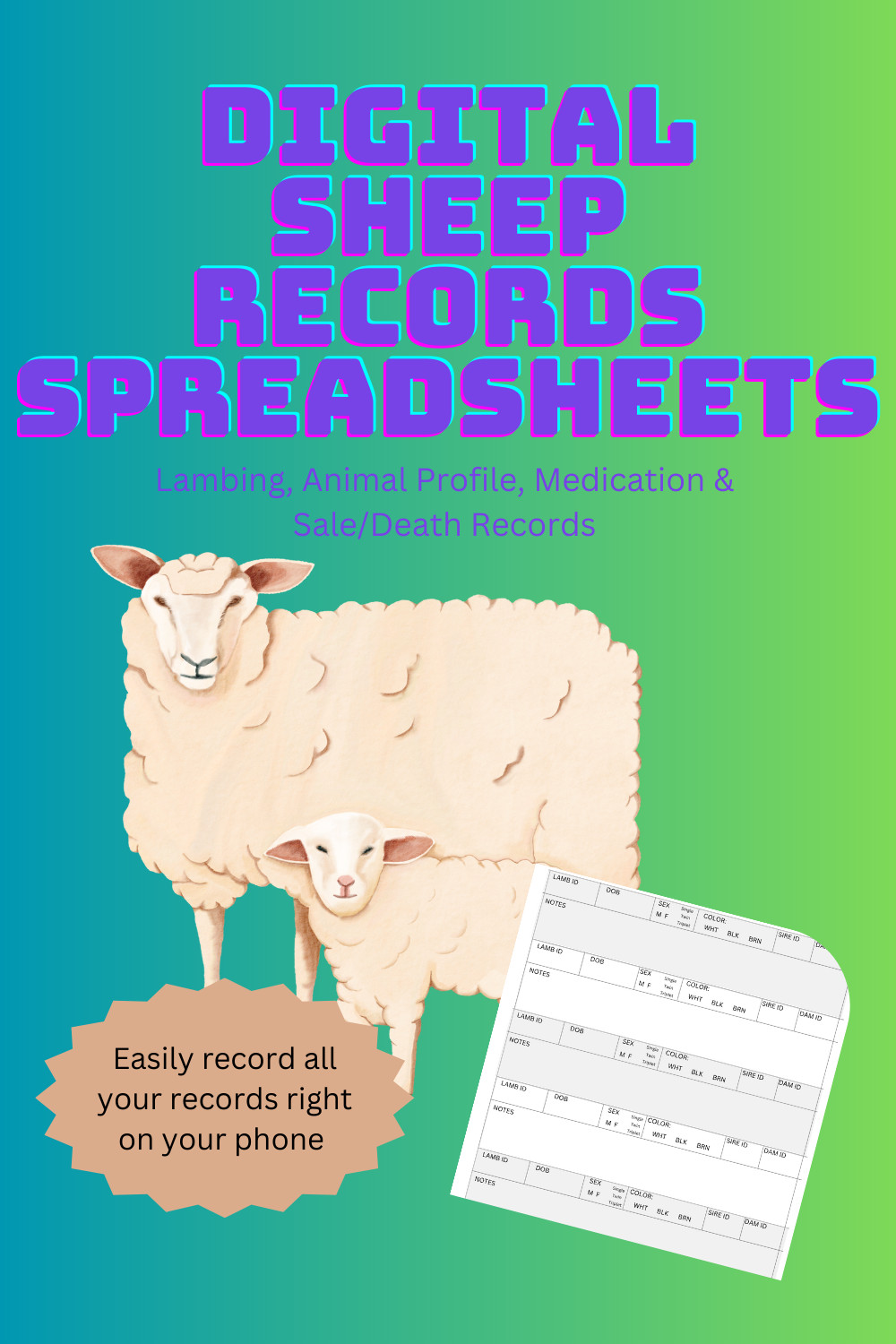 With so much to manage on a farm, keeping your animal records often becomes unorganized and lackluster. Keeping records on each animal's health, breeding, and medications is crucial to maintaining a healthy and happy flock and mastering your breeding program. However, traditional pen and paper methods can be difficult to keep organized and easily accessible…even lost. This is where
these digital spreadsheets
come in – offering a streamlined and efficient way to keep track of your sheep records from wherever you're at.
Benefits of keeping digital records….
1. Simplify Record Keeping
Digital spreadsheets are multi-functional and can be customized to fit your individual sheep record keeping needs. You can easily modify fields to track whatever information is necessary to meet your farm's needs. From lambing dates, weights, and health history, to vaccination and medication schedules, everything is all in one place. The beauty of these digital spreadsheets is that they're easy to update and share with farmhands or veterinarians. This way, you can record data in real-time, keeping everyone you choose to give access in the loop.
2. Analyze Data
Digital spreadsheets can also offer useful insights into your flock's performance. By aggregating data on wool production, lambing dates, and breeding success rates, you can make informed decisions on breeding and culling practices. With the power of data analysis at your fingertips, you can ensure your flock is as productive as possible and your breeding seasons run smoothly with less complications.
3. Time-Saving
Pen and paper record keeping is a tedious process when you're looking for a specific animal or detail. Transferring paper records onto a computer spreadsheet where you can do a search for these things takes extra time.
These Spreadsheets
will save you time, reduce frustration, and free up more of your valuable resources.
4. Cost-Effective
Unlike custom-made software that can be expensive,
these digital spreadsheets
offer a low-cost alternative for tracking and managing sheep records. They're also less complicated than some other farm management software on the market. If you can run Microsoft Excel or Google sheets at their simplest functions, you can manage these spreadsheets, and
these digital spreadsheets
come with a complete lesson on how to use them.
5. Secure and Accessible
One of the best aspects of these digital spreadsheets is the access you have to them along with the security they offer. With saved files in the cloud, you can access them from anywhere or any device with an internet connection, making it easy to share files with other farmworkers who have the link as well. They're also more secure than handwritten notes as they can be password-protected and can only be accessed by those authorized to do so.
Keeping track of sheep records can be a daunting task for farm operators. However,
these digital spreadsheets
could be the solution you need to streamline the record keeping process. With its convenience, time-saving, cost-effective nature, and overall effectiveness, you can ensure that sheep record keeping on your farm is smooth and efficient. Customize each field to track only what you want and make record keeping a breeze. These spreadsheets come with complete instructions on how to access them from any device, do simple data entry, customize fields, expand existing pages, and add new pages, so anyone can easily use this system regardless how "tech-savvy" they are.
Grab your spreadsheets
HERE
so you too can have an easy and convenient system for keeping track of your sheep program records.
If you'd like to connect with us on FB, follow our page,
Schmaltz Ranch
or join my group for farm wives
here.
Some links may be affiliate links. See full disclosure here.