Oct 2, 2023 02:51 PM Central
Jackie Schmaltz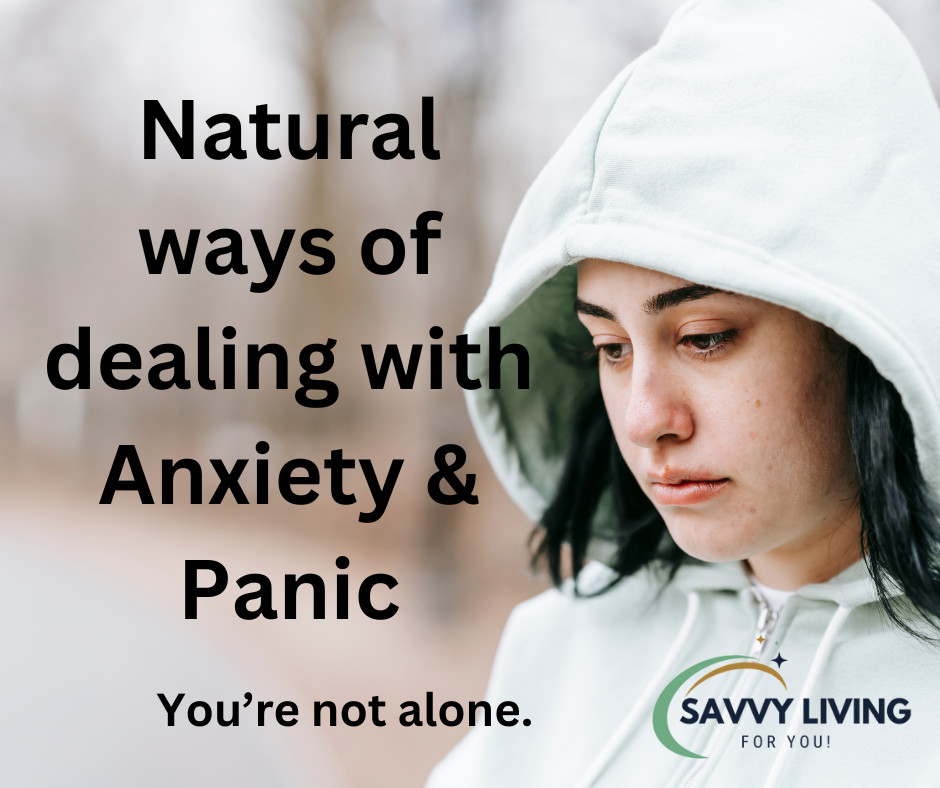 This is part 3 to a 3-part series of practical tools to help you or your child cope with anxiety and panic disorder. Anxiety disorders take many forms and are prevalent in Americans, impacting 19% of adults and 7% of children. As a mom who understands the challenges firsthand, I want to share the most effective strategies we've discovered so you can find the support you need to navigate anxiety with confidence.
Anxiety is defined as the persistent, excessive fear or worry in situations that are not threatening. Symptoms take many forms and can include subtle symptoms like jitters, upset stomach, feeling tense, nervous, jumpy, agitated, anticipating danger, headache, inability to sleep and much more. Or it can be an obvious symptom like panic, pounding heart, nervous sweat diarrhea or nausea.
I've already shared 2 of our favorite ways to cope with my daughter's panic attacks, but what do we do when she's not at home and her irrational fears start creeping in at school? I can't send her to school with my $500
sound frequency device
and she'd probably get in trouble if she started chanting prayers or affirmations in the middle of class, right?
Our next most useful tool or tools, are
top grade essential oils
. There have been many studies showing that essential oils are effective as a natural remedy for anxiety or panic. They work in different ways,
1. Aromatherapy; the scent-memory-emotion connection. Simply put, you smell something, it reminds you of something, you then have an emotion to it. Find calming scents you love like lavender or vanilla.
2. They increase serotonin, a happy, feel-good hormone. Essential oils have been scientifically proven to significantly increase serotonin levels in the brain, and some decrease cortisol, the stress hormone.
3. At a deeper level,
a top quality essential oil that still has its therapeutic properties intact because it was farmed organically, created in nature not in a lab, distilled properly, and has no added fillers to destroy its thousands of medicinal constituents work at a cellular level, restoring faulty DNA programming caused by unprocessed emotions during a past experience we had, with restored perfect programming. Obviously this is an extensive topic too deep for a blog, but I have spent several years studying in this area of emotional effects and clearing. It's legit. Medicinal properties at a cellular level will only happen with the best of
the best essential oils
though. This is why knowing the source of your oil matters and a $5 bottle at Walmart will not do. Visit the only brand I will use
HERE
. Use promo code SHAREYL to get an extra 10% off.
What and how do we use them?
The "how" is extremely easy. You can….
2. Create a diluted rolle
r to apply to your wrists, neck, shoulders, inhale. I like the
10mL size
with 15-20 drops and a carrier oil such as
V6®
or
sweet almond oil.
3. Let a few drops fall from the bottle into your palms, rub your palms together, then place your hands close to your nose, take 3 deep breathes inhaling the aroma. Be mindful of what you are feeling during this process. Does something in the body stir or shift? These are clues to be addressed of health and/or emotional matters. I then hit up my resource books to find the source of these issues so they can be cleared completely and forever. (off topic, I'd love to teach you how to do this, so reach out to me if you'd like to learn).
Now the what.
What oils to use is a little more complicated only because there are so many choices and every person's body, source of trouble, and reactions are different. Just know, you can't use the "wrong" oil, just maybe not the specific oil your body will react to best. Here are the most popular choices to get you started.
1. Lavender.
Lavender is probably the most well-known essential oil for calming and sleep. A quick Google search will show you it has been involved in several studies that have all concluded it to be beneficial. It is also widely available. Which means it is often a synthetic copycat version, so be careful about your source of this oil. Adulterated or perfume grade oil will have no physical effect, and only a slight emotional effect if you have a pleasant memory attached to the scent (aromatherapy) and are not sensitive to synthetic fragrance. If you want results, you need a true lavandula augustifolia that is unadulterated and properly distilled like
THIS ONE.
2. Roman Chamomile
is another widely known herb for its calming properties. The essential oil is even better. I actually like to pair this with my lavender for a less earthy scent. In fact, any of these oils I'm listing can be blended together in your own personal roller or diffuser blend.
3. Clary Sage
has been scientifically proven to significantly increase serotonin levels and decrease cortisol levels
*
. People who are anxious often have low levels of serotonin and high cortisol levels. When serotonin is released, it makes you feel good. Cortisol is a hormone that's secreted during stressful situations, so decreasing cortisol might help with your anxiety.
5. There are sedative oils
like
vetiver
and
valerian
that can calm those anxious feelings and put you in a type of zen-chill mind. My favorite is a blend of these called
RutaVala®
.
This is just a short list of MANY essential oils that have calming effects. Sometimes the endless options can lead us to indecisive inaction. Meaning, we can't decide what to use so we don't use anything at all. That my friends is not helping you. At the very least, close your eyes and pick something.
As someone who has a HUGE collection of essential oils, I often struggle with the overwhelm of what to use. I have another tool that is a health assessment bio scanner to help me out with this. It literally asks my body what it needs in the moment, and I get a report of body systems and emotions that are experiencing stress and a list of favorable products to support these problem areas. This valuable tool is super inexpensive (only $10/month) and has been a life savor for me as a mom dealing with babies who can't always tell me what's wrong. I have been using it for 11 years and I can vouch for its accuracy. It's a little handheld device that runs from your smart phone. Super easy to use. You can learn more about it
HERE.
And later I'll be sharing an incredible video of how oils and the iTovi squashed a panic attack instantly. Be sure to subscribe below so you don't miss it.
There you have it. My top 3 best tools for anxiety and panic,
3. Essential oils
I hope this empowers you to take control of your emotions and stay on the path to living the savvy life!
If you'd like more tips on living better, join our community of savvy people HERE. We'd love to have you!
Some links may be affiliate links. See full disclosure here.