Mar 25, 2023 02:46 PM Central
Jackie Schmaltz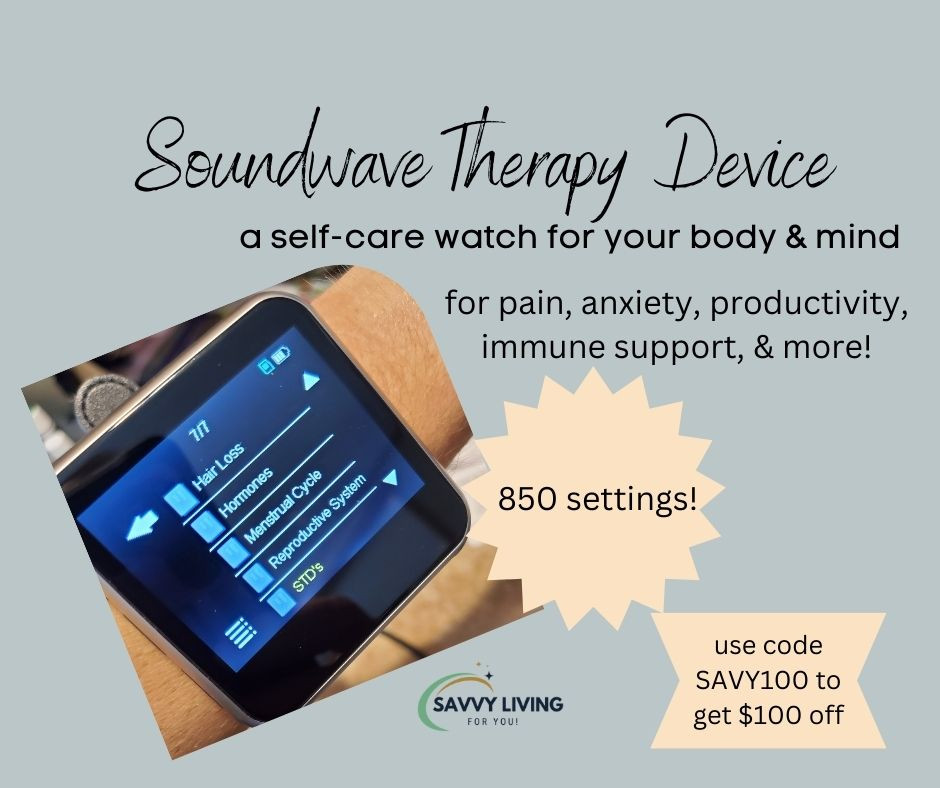 Do you struggle with IBS? You are not alone. Millions of people all over the world experience the symptoms that come along with Irritable Bowel Syndrome (IBS). Though it can be a very challenging condition to manage and treat, there is hope for finding relief and calming IBS naturally. This post will share my own journey with IBS, an effective strategy for managing the symptoms, and how to practice self-care so you can feel your best!
I've been really focusing on taking care of myself these past few weeks as we've been really busy with calving and the normal day-to-day around here. The last thing I need is to be run down, sick, or in any sort of pain from my IBS. I've got a large toolbox for this, but today I'm going to share about a device that we are really loving here at the Ranch for all kinds of things, including my IBS. It's a soundwave frequency watch.
I learned about it from a friend who had a dramatic life-changing experience with the watch and her Belle's Palsy. Another friend found relief from carpal tunnel. These were just some of the examples of why I decided to try the device that looks like an oversized watch for myself. When people ask me about it and I share what it does, everyone wants one. Here is just another reason why....
Last night I ran the Digestive folder. I set it to IBS and let it run through the whole list. My tummy wasn't really bothering me too bad, just a little discomfort that is normal for me this time of night, especially on a day I eat donuts….which was yesterday.
Within minutes of turning the watch on, my tummy went from quiet and stagnant (the cause of the inflammation causing the mild pain I experience) to active and moving. Like it was just woke up from a nap and realized it had a job to do. It was very soothing to feel things start to gently move along. Not in a way that had me needing to go to the bathroom, but just in a soothing, comfortable way of healthy functioning digestion that wasn't happening prior to turning the watch on. After a few minutes I could feel pressure going across my transverse colon. This is usually the source of my worst pain when I have flare ups and it was a bit uncomfortable. But then, I felt the pressure shift and was completely relieved. It all happened within about 15 minutes, and it felt so good.
This is definitely a setting I will be running daily. In fact, I have it on now and am experiencing the same feel-good movements happening in my gut. I think I'll help the process along by making sure I take my
enzymes
and
probiotic
today. I'm not always good about that and they too make such a HUGE difference in my gut health journey. (which you can read more on that and why gut health matters
HERE)
.
This watch has been such a blessing in my life; from general achiness to stress relief and immune support, helping my little one fall asleep, I just can't say enough good things about it. I learned that it works by using frequencies – sounds. The same soundwave technology that is used to blast away kidney stones, only in a much more controlled and calculated method.
You can get a watch for yourself
HERE,
and you are welcome to use my referral code SAVY100 to get yourself $100 off if you like to save money like me.
If you'd like to see more information, scientific studies, and testimonials on the watch, you can do that
HERE
or hit the "contact me" button and we can talk about things. I wouldn't wait long though, these things go out of stock FAST as they are taking the world by STORM.
Don't let IBS slow you down and keep you from enjoying life. Regain control naturally with WavWatch and other tools I share about in my
gut health guide
. You deserve the
Savvy Life.